Even after many museums, galleries, and other cultural institutions had to close their doors and adapt their programme to the new circumstances; the confrontation with our epoch's long-term social, political and ecological challenges continues. Since curatorial practice has shifted function from the purely aesthetic to the epistemic, which signifies an emerging field for, and possibly of, research, it might offer a site to mediate pressing ecological questions.

This thesis reviews the intersection between contemporary curating, design, art, and environmental activism by linking them to my own experience of curating a group show together with my curatorial team during the Dutch Design Week 2020.
Under the title Curating Gaps, the thesis refers to actively open gaps in rigid systems and provoke discourse while acknowledging the impossibility of reaching a comprehensive endpoint in the ecological discussion and appreciating gaps as elements in an ongoing process.


In a time of ecological collapse and social division, the concept of gaps sounds like something that will drive us further apart. But in these challenging times, it is crucial to promote the value of sharing ideas in the design, art, and curatorial field and to help imagine a shared future by demonstrating that progress is achieved by pooling knowledge. For generations, creative minds have been tackling challenges like climate breakdown and resource depletion in projects with a political, social, and environmental focus. They actively address contemporary challenges using research methods and formulate the knowledge gained in different forms of visual information, various applications and methods.

However, in a much needed moment of collective thinking and reflection, creating connections between these various specialisations, practices and research findings are becoming increasingly important. This thesis considers curatorial practices as an assemblage of diverse knowledge, drawing on different perspectives and approaches to address socio-ecological issues in a multilayered approach. This also goes beyond design and contemporary design and art as a dynamic that deepens and alters existing strategies for listening to, valuing, and synthesizing different types of knowledge and expertise around current ecological issues and related social and political concerns.
By acting as both a platform for collective knowledge and a mode of visual exploration, the curatorial practice has the potential to connect these various fields of visual research and different practices centred on socio-ecological commitment. Moreover, as one of the points of connection to the public audience, the curatoraial practice could offer a cultural-political impact and space for critical thinking around these developments.



Thanks to

Alexandra Martini, Ana Lisa Alperovich, Anna Solal, Barry Llewellyn, Blast Studio, Charlotte Rohde, Claudia Bumb, Cédric Mantel, Crafting plastics! studio, Damien Sayer, Davide Piscitelli, Dutch Design Foundation, Elliot Frydenberg, Elissa Brunato, Fotini Takirdiki, Henry Blume, Jasper Bloem, James Verhille, Johanna Honkomp, Josephine Knoll, Kajsa Melchior, Louise Bègue-Teissier, Maren Möhlenkamp, Mathias Malm, Myriel Milicevic, Oliverio Segura, Orson Oxo Van Beek, Paulo Arraiano, Quinten Mestdagh, Rollo Bryant, Romain Albers, Rosario Talevi, Sandra Groll, Sarah Roseman, Sebastian Guzman Olmos, Simon Cowper, Simone Verkuijlen, Ute Blume, Studio KBB, Vincent Snijders, Yonca Ergen.

(Non)Depleted is an exhibition exploring current realities—addressing materiality, aesthetics, and self-reflection within political, social and ecologically engaged projects. As part of the curatorial collective, I have been the initiator in this project, currently part of the curatorial team and art direction team.

(Non)Depleted is an ongoing curatorial project, which investigates the broader context of our social, political and ecological relationship to materials–focusing on research, aesthetics and self-reflection. The exhibition's title refers to resource depletion caused by extractive capitalism and its various effects.
The "non" in the title is a stands for the creative minds and practitioners who address these issues and envision possible directions along an alternative path. Their proposals expand how we can rethink our methods, infrastructures, and relationship to materials. For these voices we wanted to provide a platform for exploring radical approaches, practical applications, relevant aesthetics, and critical thinking together.

As a curatorial team, we intend to use the exhibition as a site to co-produce interdisciplinary knowledge across areas of material research, infrastructural powers and socio-ecological urgency. The body of work involves different media and approaches, with unclear boundaries between contemporary design, art and science. The presented projects are the result of actively experimenting with post-industrial waste, biomaterials, living organisms and digital tools.
Through the projects presented, a broad spectrum of directions opens up based on the evolving interests, practices, and discourses of those involved. These very different projects are revealed in a variety of approaches, ranging from the narrowly defined choice of materials to narratives about production methods and the cultural implications of materials.

(Non)Depleted started as a virtual exhibition during the Dutch Design Week 2020 and will continue as a physical exhibition in 2021 at Gr_und, a contemporary art gallery located in Berlin. Supported by The Embassy of the Netherlands in Berlin.



Curatorial Team:
Johanna Honkomp, Nina Blume, Oliverio Segura, Sebastian Guzman Olmos

Exhibitions:
Gr_und, Berlin, Germany. Spring 2021
Dutch Design Week 2020, The Netherlands. Autumn 2020


Contriutors:
Anna Solal, Barry Llewellyn, Blast Studio, Claudia Bumb, Crafting plastics! studio, Davide Piscitelli, Delphine Lejeune, Elissa Brunato, Kajsa Melchior, Louise Bègue-Teissier, Mathias Malm, Noa Jasma, Orson Oxo Van Beek, Paulo Arraiano, Quinten Mestdagh, Rollo Bryant, Romain Albers, Rosario Talevi, Sarah Roseman, Studio KBB, Vincent Snijders
Vincents Snijders: Altered Landscape, 2019. Rotterdam, Netherlands. Photo Credits: Vincent Snijders
Virtual Showroom View of (Non)Depleted during the Dutch Deisgn Week 2020.
Barry Llewellyn and Sarah Roseman: Chchchair, 2020. Photo Credits: Barry Llewellyn and Sarah Roseman
Davide Piscitelli: Ratione Soli, 2019. London, United Kingdom. Photo Credits: Davide Piscitelli

Orson Oxo Van Beek and Quinten Mestdagh: Ornamentum, 2020. Antwerp, Belgium.
Photo Credits: Michael Smith

Making Futures Bauhaus+ is a practice-based research project in collaboration between raumlabor and the Berlin University of the Arts (UdK). Since 2018, Making Futures addresses questions of architecture as a collective form and architecture as a resource. In schools, workshops, and other educational formats, the project has explored modes of city-making based around diverse forms of knowledge exchange: assembling, constructing, baking, recycling, dancing and more.

In Spring 2020, I joined the project as part of my internship to work on the Making Future publication, which Spector Books will publish in autumn 2021. The Making Futures publication is another format to continue the discourse; to bring in new voices, engage in dialogue, and take on different perspectives and forms of expression. Instead of just documenting the past, the publication aims to think further.


Making Futures Team:
Markus Bader, Juan Chacón, George Kafka, Anna Kokalanova, Christof Mayer, Nina Blume, Tatjana Schneider, Rosario Talevi
Making Futures Summer School 2019 at Haus der Statistik, Berlin Alexanderplatz. Prior Making Futures has hosted a plug-in of the Floating University and five mobile workshops in Istanbul, Palermo, Tel Aviv, Chicago and Thuringia.

The Some Magazine was first published in 2010 under the direction of Prof. Sven Völker. The non-profit magazine has a foothold in independent publishing and was available in bookshops at MoMA in New York, Colette in Paris and Doyoureadme? in Berlin. The aim of the independent publication is to report on the interface between design and art.

The last issue was published in 2015; after this far too long break, our editorial team brought the magazine back to the bookshelves. Where it is now available in Germany, Switzerland, The Netherland and Portugal.
Issue #10 revisited the unloved element, "Fire". While all our sympathies fly unchecked to the three other primordial elements, i.e. earth, water and air, fire looks into an uncertain future. Associated with catastrophes, over-romanticism or pre-industrialisation. For this issue, we gathered designers and artists to unpack the wide-ranging narratives of fire collectively in the categories: Symbol, Power, Transform and Intimacy.


DoYouReadMe?!, Berlin–Germany
Gudbergnerger, Hamburg–Germany
Motto, Geneva–Switzerland
Undercover, Lisbon–Portugal
Athenaeum Nieuwscentrum, Amsterdam–The Netherlands




Editorial Team:
Alma Halfpaap, Ariane Kaiser, Lea Flemming, Josephine Knoll, Kathrin Wedler, Nina Blume.


Contributors:
Christian Jaccard, Corrina Goutos, Erik Campanini, GeoVanna Gonzalez, Kimiya Justus, Moshtari Hilal, Nadine Kolodziey, Sebastian Guzman Olmos, studio ilio, Studio Olafur Eliasson

Course: "After Dark", Prof. Sven Völker, FH Potsdam

The project was developed in cooperation with the Federal Office for Environment, Switherland to exploring ways of environmental communication with transformation design, urban intervention and other forms of communication to inform environmental issues. As part of Stadtsiedlungsnatur gemeinsam gestalten, the first edition of tomorrowbox "Zukunftsböxli Siedlungsnatur"concentrates on more close-to-nature and interconnected green spaces in residential areas at the same time improve quality of life for citizens.

Tomorrow box is a system thinking game, interactive learning material workshop tool or starter kit into the process of making urban environment more biodiverse. The cards are intended to make the consequences of interventions in green spaces playfully tangible and understandable, thus enabling different perspectives on them.
In the time playing the game, a network of biodiversity measures and ecological as well as cultural consequences emerge, which are interwoven in a criss-cross manner.


tomorrowbos.studio: Kristin Bauer, Nina Blume, Veronika Golyak

Collaboration: Siedlungsnatur, Switzerland
Kartin Hauser (scaling4good.com), Manuela Di Guilio (naturumweltwissen.ch), Daniéle (naturwissenschaften.ch), Blanche Mathey (push.ch)
The game set consists of different components that, for example, divide the spatial utilisation of the measures into spaces for humans, non-human or co-habitation. The balance between these is paying a further importance to achive diffrent aims within the planning process.
For the storytelling of the game, every player recieve a usage scenario, which are linked to specific measures and consequence to achieve the targeted outcome.
The project above was a further development of the first prototype within the framework of an interdisciplinary course with the topic "Environmental Communication with Effect" by Myriel Milicevic. The course dealt with transformation design, urban interventions and other forms of communication to communicate environmental issues.The aim was to develop communication tools and motivate people to act. In a co-creation process with scientists, politicians and staff from environmental authorities during the 2018 Environmental Observation Conference, the original idea for the "Tomorrow Box" was developed, the concept and continuation of which we then worked on.

The Tomorrow Box is a collection of artefacts that transfers scientific findings from environmental observation into simple, personalised options for action. Theoretical knowledge is told using haptic artefacts and emotional stories that promote the understanding of complex interrelationships in small steps.


Collaboration:
Kristin Bauer, Nikolas Ripka, Veronika Golyak

Cooperation:
BAfU (Bundesamt für Umwelt), Germany
UBA (Umweltbundesamt), Switherland


Course: "Umweltkommunikation MitWirkung", Myriel Milicevic and Prod. Dr. Frank Heidmann, FH Potsdam
The prototype shown here shows "Kino auf der Fensterbank", a box for nature romantics for the city dweller, which informs about the loss of biodiversity in urban environments and connections with agriculture and land-use change.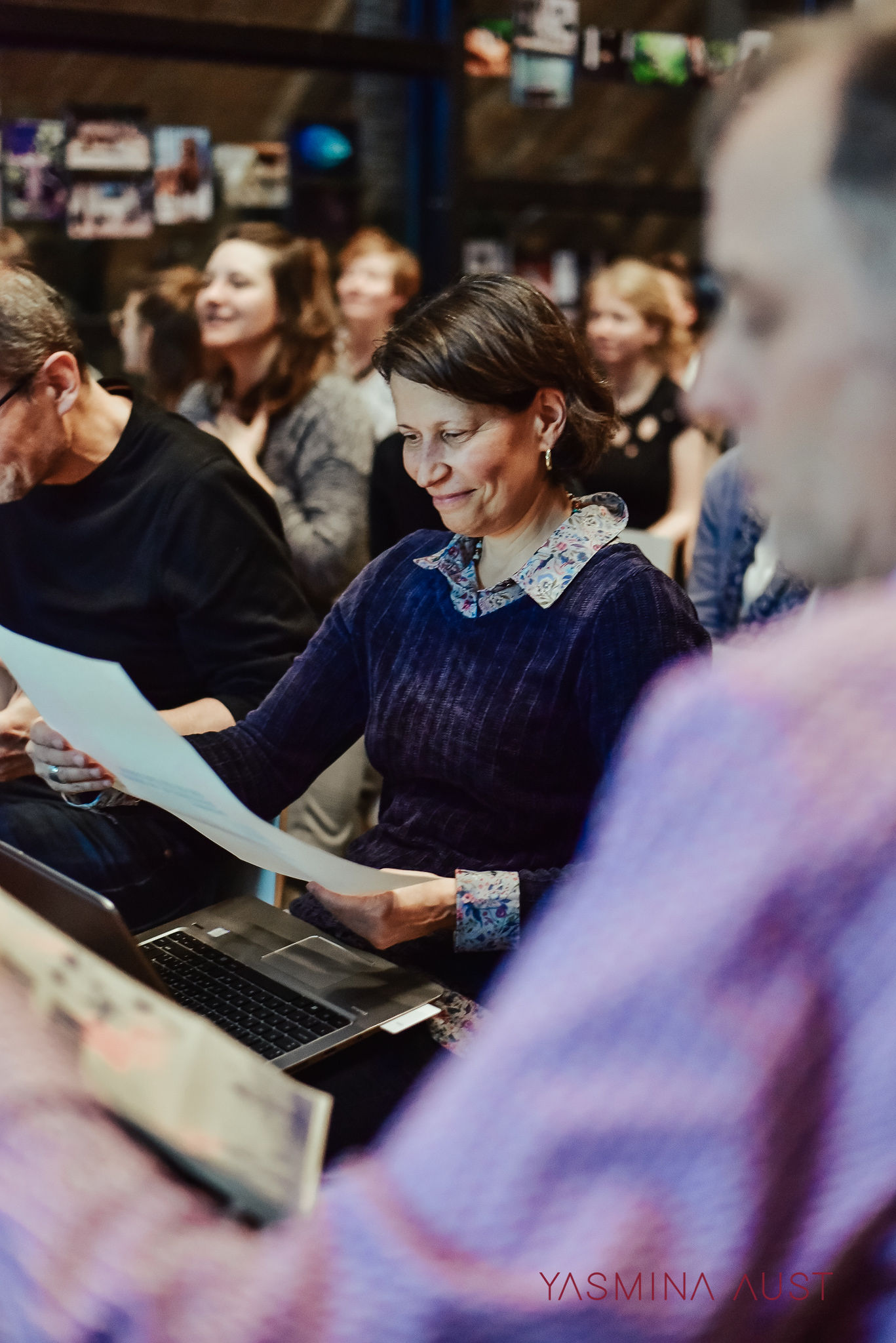 During a public presentation includeing policy stockholders and enviromental institution, the course presented their prototypes in the Biosphäre Potsdam.